Students Transition From Virtual to In-Person Learning
This semester, students were allowed to decide their learning plan for the last half of the school year. Some students who previously chose to learn virtually are coming back to WHS for in-person learning. This transition could present challenges for some students that had adjusted to the virtual learning setting. Students were asked to share their experiences during this unique transition.
Junior Matthew Gibson said, "I prefer in-person learning because the work is more manageable. I started online because I thought it would be easier and more relaxed. I ended up having far more distractions at home than I had anticipated, which is what influenced my decision to come back for in-person learning. My only real challenge was having to move my schedule around to take all the classes I needed." It seems like many students made the transition because they realized they actually worked better inside the classroom.
Senior Abby Conley said, "I prefer learning in person because I have more motivation to get my work done and I like seeing all of my friends. I originally wanted a do-it-yourself approach, but I actually felt like I worked better in the classroom. Although I felt more relaxed in my own bedroom, I wasn't able to socialize as much. I wanted to finish my senior year actually being at school seeing my classmates and teachers." Luckily, Gibson and Conley have seemed to transition well, but other students haven't had such a seamless transition.
Senior Brooke Haddad said, "I prefer in-person classes, but I got so used to not going to school and not being around people, so coming back to school has definitely been a challenge. My teachers seemed to assign more work while online, but it was very easy to get caught up because everything was on Google Classroom. I have found it more difficult to catch up on assignments doing in-person learning. However, I felt like I had no social life when I was doing school from home. At school, I get to spend time with my friends and my teachers offer more one-on-one teaching." Seeing friends seems to have been an influence for a lot of students to return to in-person learning. 
Whatever the reason, we're glad students can choose which learning plan is best for them. COVID-19 has been a struggle, but it has also opened the doors for administrators to offer unique learning plans that are beneficial to each student's individual needs. Although these students decided their original choice wasn't the best fit for them, it allowed for versatility in the learning structure at WHS that has never been seen before.
About the Writer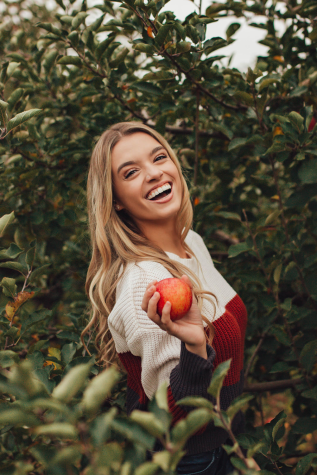 Kate Wagatha, News and Opinions Editor
I am a senior at WHS and this is my first year on the Purple Pulse. I'm the editor of news and opinions. Outside of school I can usually be found working...