Inauguration Day in D.C.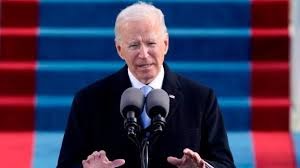 On January 20, 2020, there was history made with a newly elected President of the United States coming into office, as well as the very first female and African American Vice President, Kamala Harris. On this day at 12pm, the President and Vice President were sworn into office and gave speeches about their upcoming plans and how they plan to handle this global pandemic and other issues that may come. Joe Biden declared when he first got on the podium that he is the president for the whole nation, not just one political party's side and that he will work just as hard for the people that don't support him as he does for the people that do. The nation, along with the world, is enduring a trying time and needs to have a President that is ready to take on whatever obstacles that come our way. We are all hoping for some sort of normalcy to come out of this change. Biden is ready to take on this responsibility and says, "My whole soul was in it today. On this January day, my whole soul is in this: Bringing America together, uniting our people, uniting our nation. And I ask every American to join me in this cause."
About the Writer
Carlee Olsen, News and Opinions Journalist
My name is Carlee Olsen and I am a member of the Purple Pulse this year! When I'm not in school I'm usually playing soccer, working, or spending time...